Kentucky State University football will look to extend its nine-game win streak against rival Central State University in the 34th annual Circle City Classic at Lucas Oil Stadium in Indianapolis, Indiana on Saturday, Sept. 23rd at 3 pm ET.
The last time KSU fell to CSU was back in 2007, since then KSU has dominated the battle of SIAC West Division foes, including a thrilling 17-14 overtime victory a year ago. Through the duration of the rivalry, the Marauders hold a significant series lead at 35-21-1 from when the annual game began back in 1947.
The Circle City Classic and the rivalry with CSU holds significant meaning to both fan bases, and as head coach John L. Smith explains, it's important for the Thorobreds to maintain poise against a conference opponent with bragging rights on the line.
"It's a great experience for our players," said Smith. "We look forward to it because we know it's a great event and a fun atmosphere. But, we must prepare ourselves and our players not to get distracted. We want to come home with a win."
KSU is coming off its first win the season, with a 30-23 defeat of in-state opponent Kentucky Wesleyan College on Sept. 16th. The Thorobreds rode the momentum of an aggressive defensive line, sacking the Panthers quarterback seven times, along with the play of sophomore running back Brett Sylve accounting for 100 yards rushing and a special teams touchdown.
Senior defensive end Rodriquez Jones is coming off one his most dominant performances as a Thorobred, leading the defensive line with seven tackles, three tackles for a loss, including two sacks. On the other side, Sylve was named the SIAC Newcomer of the Week for the first time in his young career. He currently leads all of the conference in all-purpose yards with 650 yards, averaging 216.7 yards per game. His two kick returns for touchdowns also leads all of the SIAC.
The Circle City Classic is a collaboration between Indiana Black Expo, Inc. and the Indiana Sports Corporation. The net proceeds from the Classic help support youth initiatives for each organization. Additionally, each year the Classic's educational partner, the Indianapolis Black Alumni Council, hosts an educational college fair that exposes over 2,500 youths to colleges and universities throughout the country.
Tickets are on sale now at ksuthorobreds.com or by calling the KSU ticket office at 502-597-6011. For fans not attending the game in Indianapolis, a radio broadcast will be provided on campusnation.com.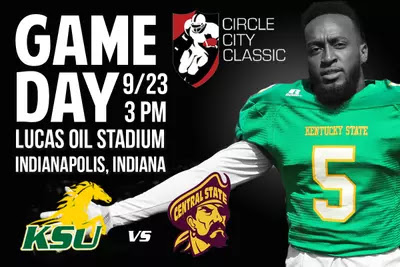 by Eric Mathews