Murray State hall of famer and former two-time Ohio Valley Conference championship football coach, Houston Nutt, is our guest this week on the Runnin' with the Racers Podcast, No. 94 on GoRacers.com.
Coach Nutt's four seasons from 1993-96 still stand as one of the most successful eras in program history.
Not originally on the list of five finalists, Nutt was given an interview when one of the candidates dropped out. He so impressed, that he was hired as Murray State's 13th head coach on Dec. 15, 1992.
The best thing Nutt did for Racer Nation was make us believe that not only could Racer Football win, they could win big.
In 1993, the Racers won four games in the OVC and did the same in 1994. Then came the 1995 season. Nutt's initial recruiting class were juniors and some of them were great, including All-America defensive back William Hampton (Inducted into the Murray State Hall of Fame in 2012). The Racers added a pair of transfers that helped push them over the top in quarterback Mike Cherry and tailback Derrick Cullors. The Racers were 11-1 and won the OVC at 8-0 and ran the table again in 1996 to win the OVC in back-to-back seasons. MSU was 22-3 overall in Nutt's last two seasons.
Nutt points to the staff that worked with him, including Kim Dameron, Mark Hutson, Fred Jones, Mike Markuson, Larry McClain, Danny Nutt and Charlie Wiles.
"We were very close and our players felt that," Nutt said. "We noticed early on that we (the team) were a bunch of individuals. We knew we had to change that and develop a one-heartbeat mentality. I still have contact with many of our Murray State players that we had. I wanted them to graduate and I wanted to win and they locked on and they did it the right way."
Any championship team has great players and Houston Nutt certainly had that. In Nutt's four seasons, the Racers produced three OVC Player of the Year picks, 31 All-OVC selections and seven All-America picks.
Nutt is third all-time at Murray State in winning percentage behind only Mike Gottfried (1978-80, 3 seasons, 22-11-1 .662) and MSU's first coach Carlisle Cutchin (1925-30, 6 seasons, 37-11-4 .750). Nutt is the only MSU coach to have two double-digit winning streaks. MSU started the 1995 season 11-0 and won 11 in a row in 1996 after losing the season opener. MSU's two undefeated OVC titles in 1995 and 1996 are two of the three in program history. The first was in 1979.
In 1995, 15,711 watched the Racers beat Eastern Kentucky 17-7 and clinch the OVC title in front of the fourth-largest attendance in Roy Stewart Stadium history.
Enjoy the podcast with Coach Houston Nutt.
About Runnin' With The Racers Podcast
Murray State Basketball great Jonathan Stark was the first guest when the pilot episode posted Aug. 29, 2018, The podcast is produced weekly and usually is available by Wednesday. The Runnin' with the Racers Podcast is mainly guest driven with news and notes of the week from the Racers. Dave Winder, MSU Athletics Associate AD for Media Relations is the host.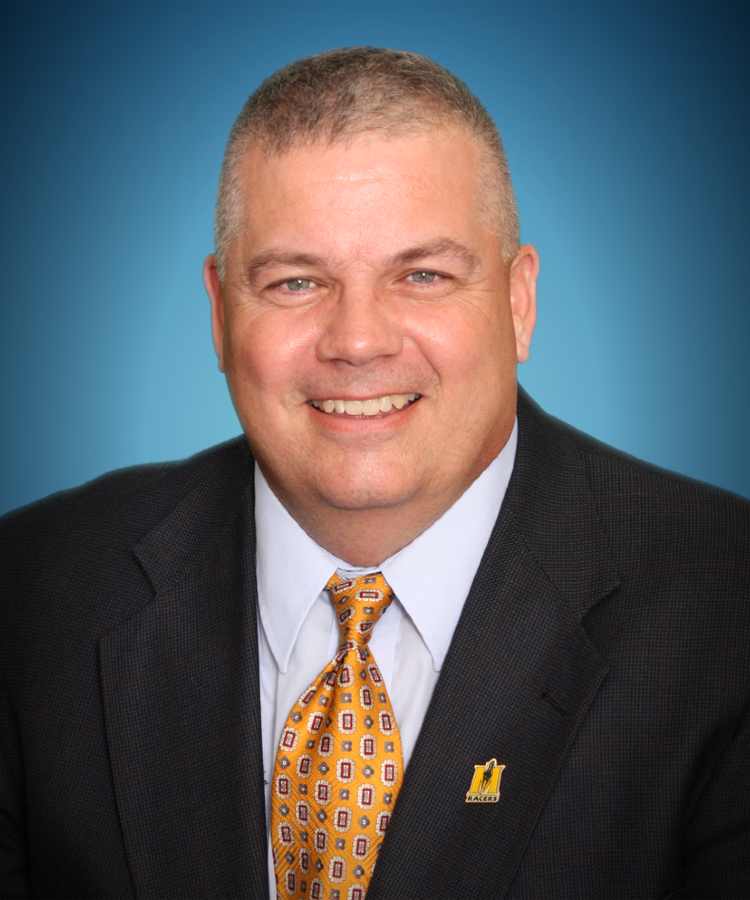 Dave Winder – Associate AD – Media Relations
Murray State University