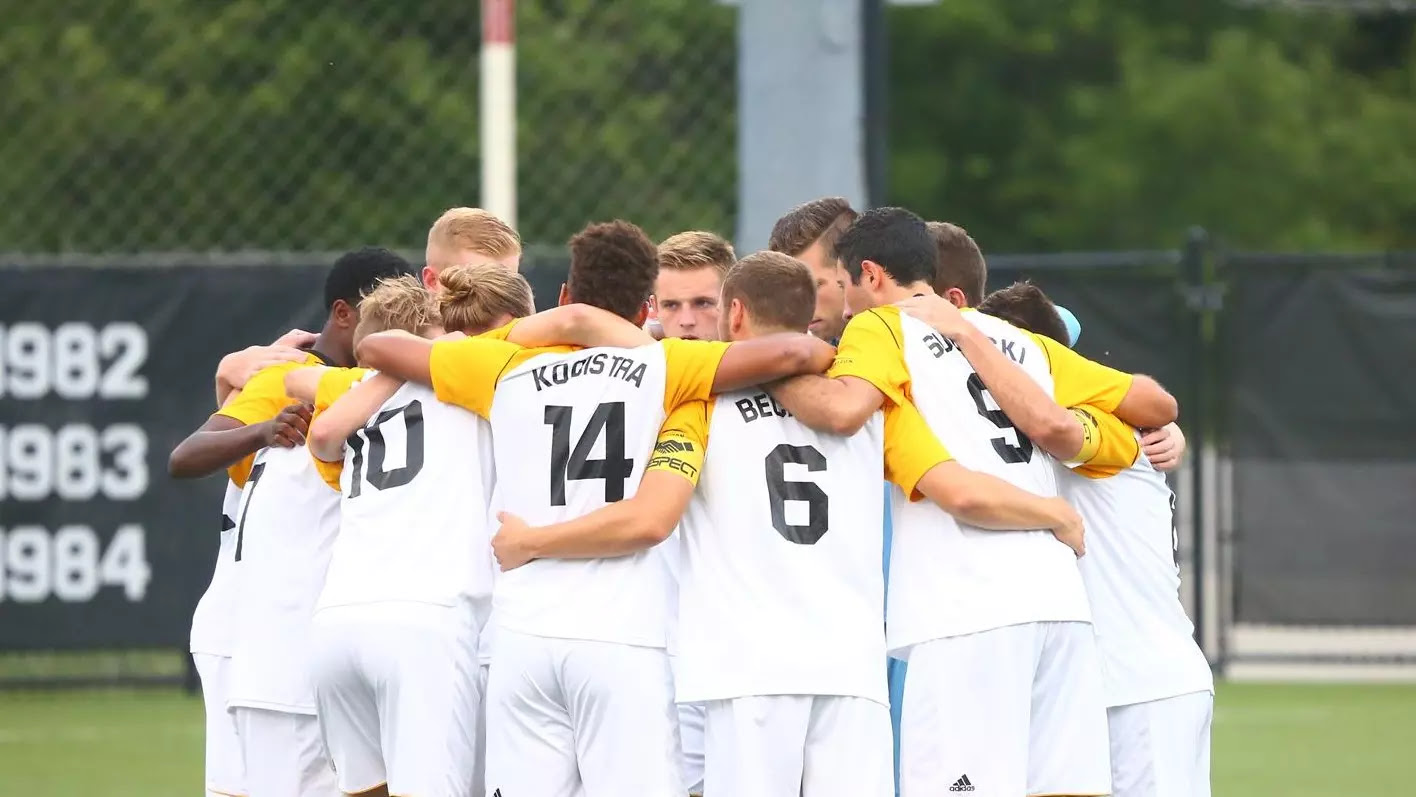 The Northern Kentucky men's soccer team will host the Belmont Bruins on Saturday to open Horizon League play. Kickoff is scheduled for 7 p.m. at NKU Soccer Stadium, and the match will be broadcast live on ESPN3.
Northern Kentucky Norse (2-1-1) vs. Belmont Bruins (1-0-2)
Saturday, Sept. 9 – 7 p.m.
Highland Heights, Ky. – NKU Soccer Stadium
HEAD COACH STU RIDDLE: Stu Riddle is in his first season at the helm of the NKU men's soccer program. He was most recently the head coach at the University at Buffalo, where he spent four seasons. Last year as head coach of the Bulls, Riddle led the team to a 12-4-3 overall record. For his career, Riddle sports a 63-69-22 overall record as a head coach. In the past seven seasons, Riddle guided his teams to the Mid-American Conference Championship match four times (2010, 2011 at Western Michigan and 2015, 2016 at Buffalo).
LAST TIME OUT: Jim Barkei and the NKU defense recorded their first shutout of the season in a 0-0 draw at Eastern Illinois on Tuesday, Sept. 5. The Norse had four shots on goal in the match, compared to two shots on frame for the Panthers. NKU also attempted eight corner kicks, while the home team had just three. EIU goalkeeper Mike Novotny continues to lead all of NCAA Division I in total saves and saves per game. The Panthers' record is 1-0-4 in 2017.
SCOUTING BELMONT: Belmont is 1-0-2 in 2017 with a win against Niagara, and the team earned 0-0 draws against Memphis and Dayton. The Bruins feature 14 freshmen, and seven different countries are represented on the full roster. Six players have scored for Belmont this season, and all of the goals came in the team's 6-1 win over Niagara. Alex Seeley has played all three games in the net for the Bruins. He has made 12 saves on the year and hasn't allowed a goal in 285 minutes of play. Steeley is tied for first in NCAA Division I in save percentage. Belmont ranks first in the nation in corner kicks per game.
NORSE IN THE 2017 SEASON: NKU is 2-1-1 on the year. The team has wins against Oakland City and Fort Wayne, a loss to UC Irvine, and most recently earned a draw at Eastern Illinois. Rikard Lindqvist leads the team with four goals and nine points. He is tied for 10th in NCAA Division I in goals scored this season. Wlademir Babaew and Tom Suchecki have also added goals for the Norse in 2017. In the net, Jim Barkei has started all four matches. He is 2-1-1 on the year with a 1.56 goals against average. As a team, the Norse rank third in the nation in corner kicks per game.
FRESH FACES: NKU signed 13 student-athletes to its 2017 class. Jim Barkei, Victor Bjurhall, Felix Komolong, Alex Greive, Brett Wilson, Tom Suchecki, Rikard Lindqvist, Edo Durante, Abdul Kooistra, Jake Minkovitz, Joe Paasewe, Harvey Moyes and Isaiah Schatz all began their first seasons with the Norse.
Barkei, Koositra, Lindqvist, Suchecki and Wilson are transfers who have played at the Division I level. Komolong, a freshman, is the brother of NKU soccer alum Alvin Komolong. Schatz is also a freshman, and he earned a selection to the U.S. Youth Futsal Team that competed in Costa Rica in late July.
TOP RETURNERS: Midfielder Campbell Morris is back for his senior campaign. Last season, he led the Norse in goals (3) and points (6). Senior Dylan Carss and junior Calvin Murphy will once again provide leadership to the defense. Carss and Murphy played 1,698 and 1,666 minutes, respectively, in 2016 to lead the team.
UP NEXT: NKU will host Dayton on Wednesday, Sept. 13 for a 7 p.m. match at NKU Soccer Stadium.
Ryan Wilker
Northern Kentucky University
Athletic Communications Graduate Assistant