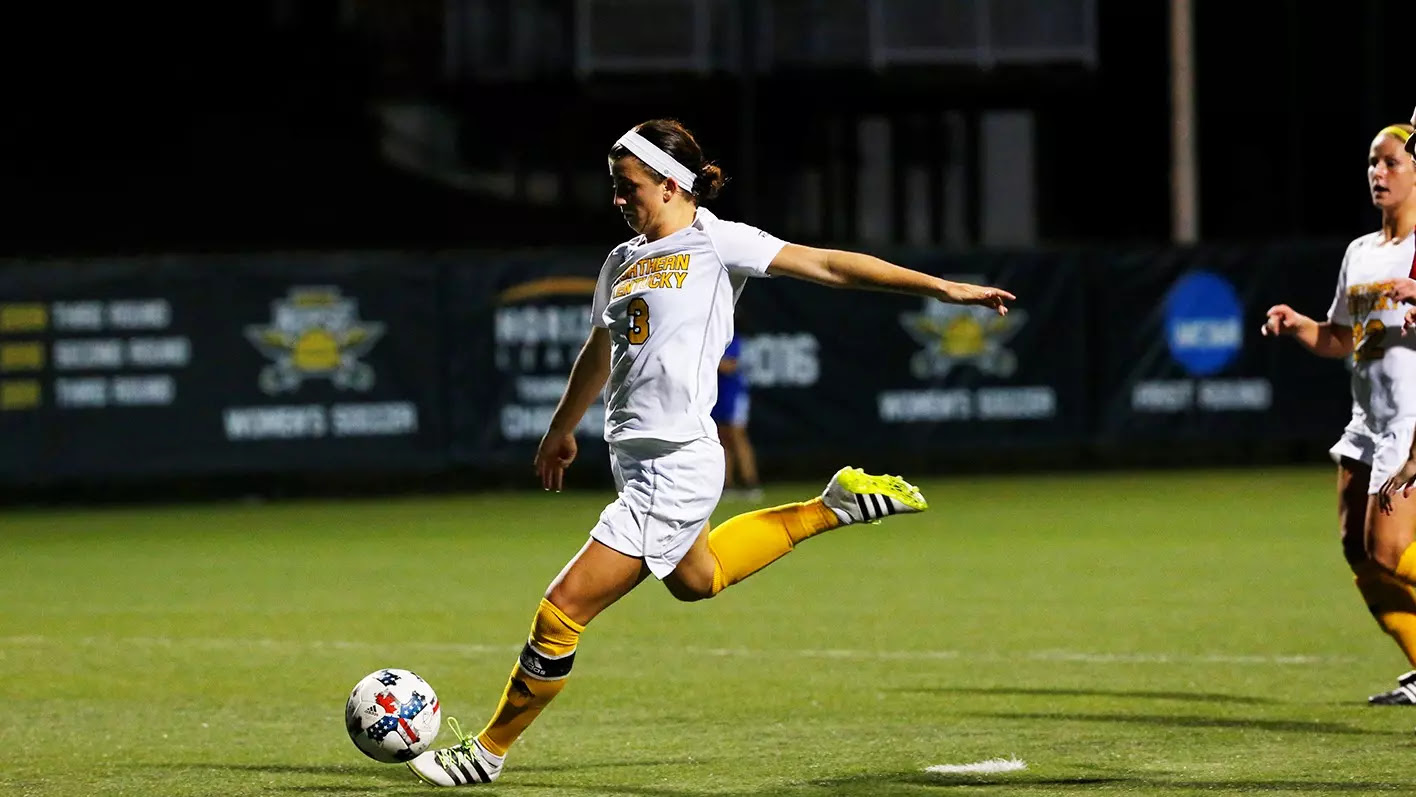 Two programs with unblemished Horizon League records will square off on Wednesday evening, as the Northern Kentucky women's soccer team hosts Wright State. Kickoff is scheduled for 7 p.m. at NKU Soccer Stadium, and the match will be broadcast live on ESPN3.
Northern Kentucky Norse (5-4-0, 2-0-0) vs. Wright State Raiders (7-4-0, 2-0-0)
Wednesday, Sept. 27 – 7 p.m.
Highland Heights, Ky. – NKU Soccer Stadium
LAST TIME OUT: The offense sparked a 7-1 win for the Norse against Youngstown State on Saturday. Payton Naylor had three assists within a span of one minute and 32 seconds in the second half, and Kailey Ivins and Megan Patrick each scored their first career goals. Macy Hamblin allowed NKU to take a lead in the 20th minute, but the Penguins tied the match in the 36th minute. However, Patrick was able to give the lead right back to the Norse in the 37th minute. The Norse then scored five unanswered goals to take the 7-1 victory.
SCOUTING WRIGHT STATE: The Raiders enter the contest with a 7-4-0 record overall and 2-0-0 mark in League play. Wright State is on a three-match winning streak, and the Raiders have won four of their past five contests. Sarah Colvin leads the team in goals (5), assists (5), and points (15). Aaliyah Patten has added two goals and five assists on the year. Maddie Jewell has seen the most action in the net for the Raiders. She is 6-2-0 this season with a 0.82 goals against average. She has made 31 saves for a 0.838 save percentage.
TAKING A LOOK AT THE STATS: The Norse have a 5-4-0 overall record and 2-0-0 mark in the Horizon League. NKU has won its past two matches, and eight different players have scored a goal this season for the team. Jessica Frey leads the Norse with seven goals and 14 points. Macy Hamblin has also been a key contributor on offense, as she has five goals on the year. In the net, Emily Lohmann has seen a bulk of the action. She sports a 5-3-0 record with a 1.14 goals against average. She has also made 32 saves for a 0.780 save percentage. Lohmann and the NKU defense recorded their first shutout of the year in a 2-0 win over UIC on Sept. 15.
SENIOR CLASS AWARD: Jessica Frey was selected as one of 30 candidates for the 2017 Senior CLASS Award. To be eligible for the award, a student-athlete must be classified as an NCAA Division I senior and have notable achievements in four areas of excellence: community, classroom, character, and competition.
As a nursing major, Frey maintains a 3.746 GPA. Upon graduation in the spring, Frey plans to work in a critical care unit at a children's hospital. She also hopes to advance in her field by becoming a Certified Registered Nurse Anesthetist (CRNA). Because of her excellence in the classroom, she has been named to the 2015 and 2016 Horizon League All-Academic Teams, as well as the 2015 COSIDA Academic All-District.
Frey is also very active in the community. She has volunteered at the Liberty Matrix Nursing Home and the St. Lawrence Catholic Church after school program. She has also participated in the Price Hill Summer Clean-Up, Down Syndrome Buddy Walk, and the "Pause for Parents, Play for Kids" program through the Butler County Board of Developmental Disabilities.
HORIZON LEAGUE: The Horizon League announced its women's soccer preseason poll for the 2017 campaign. NKU tied for first place in the poll with Milwaukee, as each team received 86 points and five first-place votes.
Detroit Mercy, Oakland, Wright State, UIC, IUPUI, Youngstown State, Cleveland State, and Green Bay rounded out the rest of the Horizon League preseason poll.
HEAD COACH BOB SHEEHAN: Sheehan is in his 21st season as the head coach of the program. He is the only coach in the team's history and sports a 302-98-26 overall record. In Division I play, his teams are 50-45-8. Coach Sheehan picked up his 300th career win in a 2-1 overtime victory against Appalachian State on Aug. 29.
Sheehan ranks in the top 40 all-time in winning percentage for women's soccer coaches in NCAA history across all divisions. He is also in the top 60 all-time in total victories for women's soccer coaches across all NCAA divisions.
A SUCCESSFUL YEAR: NKU finished the 2016 campaign with a 13-7-1 overall record and a 6-2-1 mark in Horizon League play. The Norse captured the Horizon League Tournament crown and advanced to play in the Division I NCAA Tournament last season for the first time in program history. NKU fell to No. 1 West Virginia in the NCAA Tournament by a score of 3-0.
Macy Hamblin earned Horizon League Player of the Year and Offensive Player of the Year honors for the second season in a row. Jessica Frey joined Hamblin on the first team, Katelyn Newton received Second Team All-Horizon League honors, and Ally Perkins was named to the All-Freshman Team. Hamblin, Frey and Perkins all return to the team this season.
UP NEXT: The Norse will travel to Detroit Mercy on Saturday, Sept. 30. Kickoff is scheduled for 4 p.m.
#TakeNotice
Ryan Wilker
Northern Kentucky University
Athletic Communications Graduate Assistant